While there's no way to extend a current subscription, you can take advantage of any of our promotions by purchasing a new subscription.
If you purchase a new subscription to the music school you're currently enrolled in, the new subscription time will automatically be added to your existing subscription time to extend that out. In addition, if your newly purchased subscription is for a longer plan, you'll immediately gain all of the benefits of the longer subscription plan (for example, more VEs).
To take advantage of our promotions to extend your current subscription, follow these steps:
Click the "Join Now" tab from our homepage (www.artistworks.com).
Choose your music school, the subscription plan (3, 6, or 12 months), and then click the red "Check out" tab. 
At the top of the next page, instead of creating a new account, click the blue "Welcome back" link (see red circle below).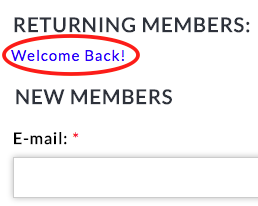 Clicking the "Welcome Back!" link will direct you to enter your ArtistWorks username and password. Continue with the Checkout process and pages. 
Scroll to the bottom of the Checkout page asking for your billing and contact information until you see the Gift Card/Promotional Code field shown below (see blue circle). 
Enter the ArtistWorks coupon code in the required field.
Click the blue "Apply to order" tab (see red arrow above) to ensure that the coupon code has processed. You should see your discounted price at that time. 

If you don't see a discounted rate, re-enter the coupon code and click the blue "Apply to order" tab again. 
Once your payment has been processed, you'll be able to see your updated subscription information in your ArtistWorks account.