You can find the promotional code field on the second page of our checkout process.
The first page of the checkout process will ask for your email address and will require you to create an ArtistWorks username and password. Once you move beyond this page, you'll be brought to the next checkout page requesting your contact and billing information. You'll see your shopping cart in the upper right corner. The shopping cart contains the promotional or coupon code field as shown here: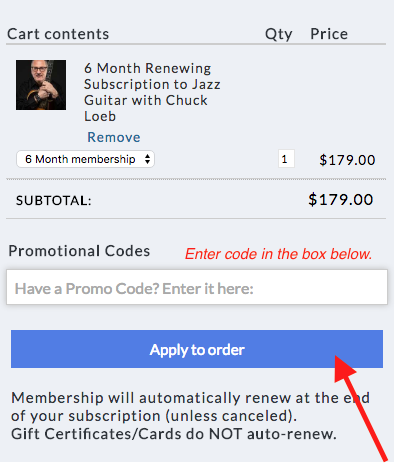 After entering the coupon code, you must click the blue "Apply to order" button in order to ensure that your discount is processed. You'll see your new, discounted rate at the bottom of this page. 
If you do not see the discounted rate, your coupon code was not properly entered or processed and we ask that you try again.
When you're ready, click the red "Continue" button at the bottom of the checkout page to complete your purchase and get started with your ArtistWorks learning experience!